---
Client: Nate Wilson

Year: 2020

Designer: Sophie Sargood

Collaborator(s): Mimm Studio









'Conversations Collection' ('CC') is a series of lifestyle products designed and developed to be a socially binding tool for the home, studio and store. A project curated for Mimm, a Nottingham based creative studio. 'CC' roots itself in the strong form of social interaction that is, coffee culture. The set of drinking vessels and accessories utilise narrative, to drive design. Bonding the essential elements: colour, material and process, the design produces meaningful connection between product and use. Conversations Collection celebrates differences through unifying them, with a mission of "starting conversations that matter".



Brief
To design and develop an extension onto the Mimm brand that has a focus on 'Lifestyle'. Through brand research, understand the key elements that make up Mimm and build on this notion in order to successfully produce a cohesive set of lifestyle products that embody the brands ethos to the highest degree whilst catering too various usability's.

Approach
The approach was brand research driven. This formulated a narrative driver, meaning the designer first anatomised the brands core values and what they represent which generated key focal points:

Community
Diversity
Unity
Creativity
Independence

Having identified these key drivers, the mission became 'starting conversations that matter', with the aim of getting people from diverse backgrounds connected in conversation. After establishing the mission, the bi-product of the 'aim' formulated into what is now the 'conversations collection'. A set of products, that through design, celebrate diversity and through use, act as a social binding tool.

Insight
Secondary research encouraged the movement towards coffee socialising experience. Historically, 17th century coffee houses became a space for man, from every rung on the social ladder, to congregate, learn and debate with each other. Providing a place of social parity. Demonstrating the power of coffee culture then, and its ongoing ability still, to bring people together.


Research Driver
The source of the product stemmed from an understanding there is an adopted set of social behaviors associated with coffee culture. Coffee consumption within a group fuels social interactions. The phrase "let's have a coffee" is synonymous with "let's have a conversation" hereby creating a movement for social needs to be reckognised within the products we use.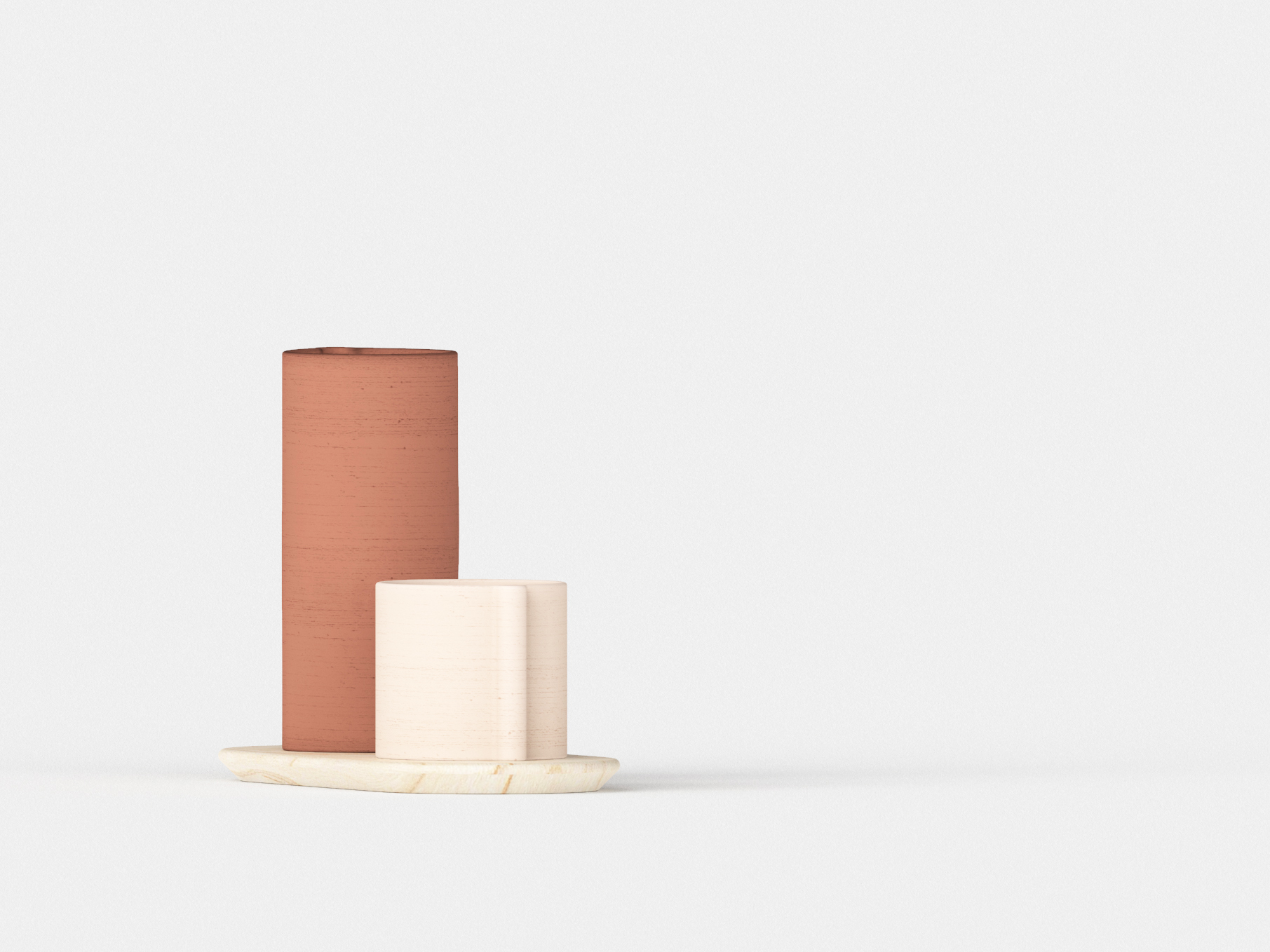 Colour
The colour palette for the design was mapped out very early on in the process due to the pigmentation of the clay being one of the main key features of the design. The visuals utalise a "playground" effect to demonstrate a platform for multiple cells to relate and connect.
Detail
Through the use of transfered line and form, the design language of the collection prohibits an instant assumption the seperate vessels belong together. The aim of the product is to convey all the core brand values across the design language. The narrative driver informs design decisions so every detail has justification and meaning.
01 Shared volume of liquid contents in 4 varying sizes.

02 Shared use of design attributes.

03 Ability to stand independantly and collectively.